So you've made your Pay Link(s) and you've made some sales! Congratulations!🎊 Now to get you paid your earnings….
---
When you first make a sale, any earnings will appear in your pending balance in your Payouts page. We store earnings in your pending balance for 7 days to cover any refunds that might happen – whilst in your pending balance you will not be able to withdraw these earnings.
After 7 days, the earnings from this sale will then move into your current balance. In order to withdraw your earnings, you must have:
Added your bank account details in the payout settings tab.
Exceeded the $50 threshold.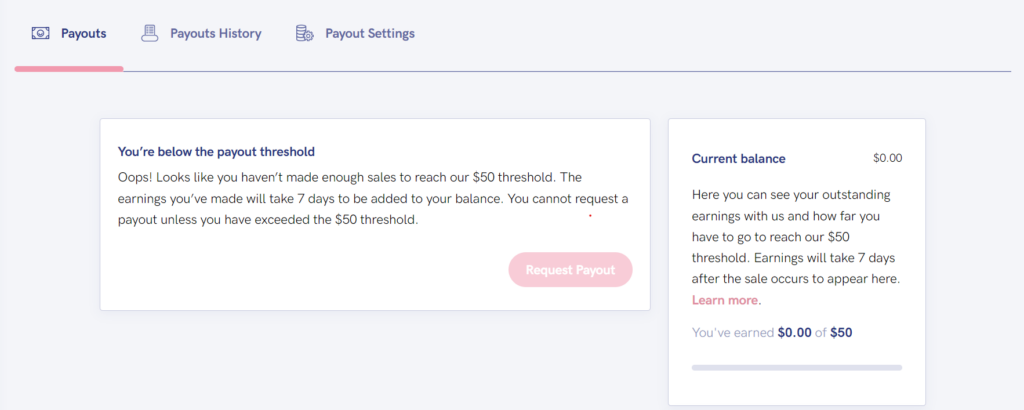 Once you've fulfilled both of these, you can request a payout of your earnings. PUSH will review your request within 5 working days and, provided your request is approved, your payout will be sent to your bank account you have added on the 15th of the month.
📌 Please note, PUSH reviews all payout requests to minimise fraud and payment scams.
Once your payout has been sent, you can request another payout provided you have exceeded the $50 threshold. You can only request 1 payout per month.
We'll send you emails at each stage to keep you updated on the progress of your payout 💌
---
If, at any stage, you're waiting longer than a week for your request to be approved or your approved payout hasn't been sent after the 20th, pop us a message at [email protected] from the email you've got registered with us and we'll do our best to help.
See also:
When will I get paid?
When are payouts sent?
Why does PUSH review refunds & payout requests?