🏆 Everybody's a winner with a Reward Link!
When creating a Reward Link, you can choose from; unlock downloadable files, unlock a secret message or unlock a secret URL.
Unlocking a downloadable file allows your audience to access a secret file of your choice. This could be your music track, a video of behind the scenes, a photo – anything you like!
Unlock a secret message will take your audience directly to the message once they have completed the set tasks. This could be used for a discount code, or revealing information otherwise secret!
Unlocking a secret URL will allow your audience to head to a website of your choice. Perhaps this could be a link to a sale on your website, or your new Smart Link. Again, the choice is yours!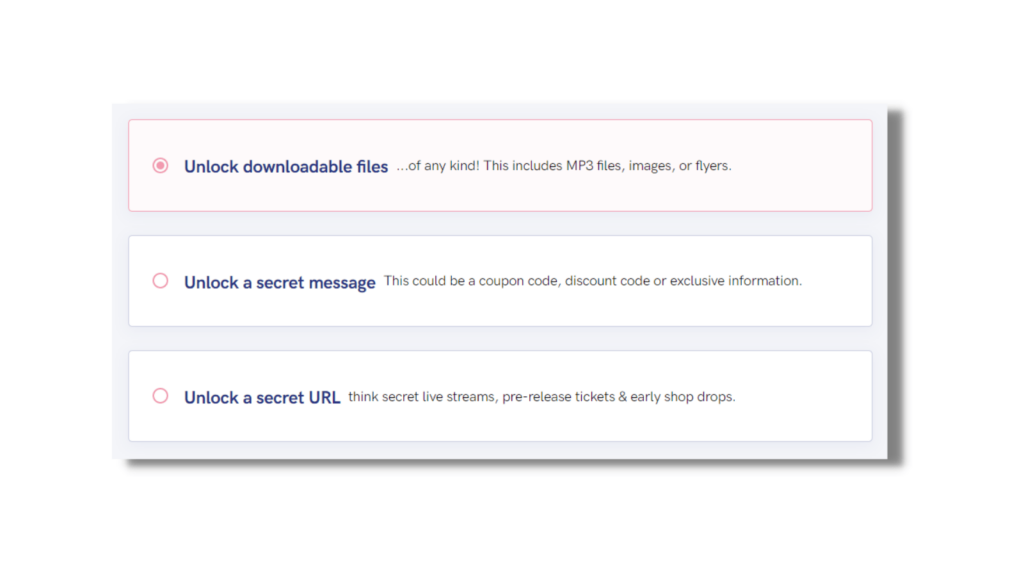 All action choices remain the same no matter which reward type you decide on. You still have the same control over how many actions your fans must complete to access the reward. The only difference between the options is how your link is set up.
For example, when creating a Reward Link with a secret URL, you'll be required to input the URL. Whereas, the option for a secret file will mean you need to upload a file for your audience.
See also:
What is a Reward Link?
How to make a Reward Link
What actions can I offer in Reward Links?